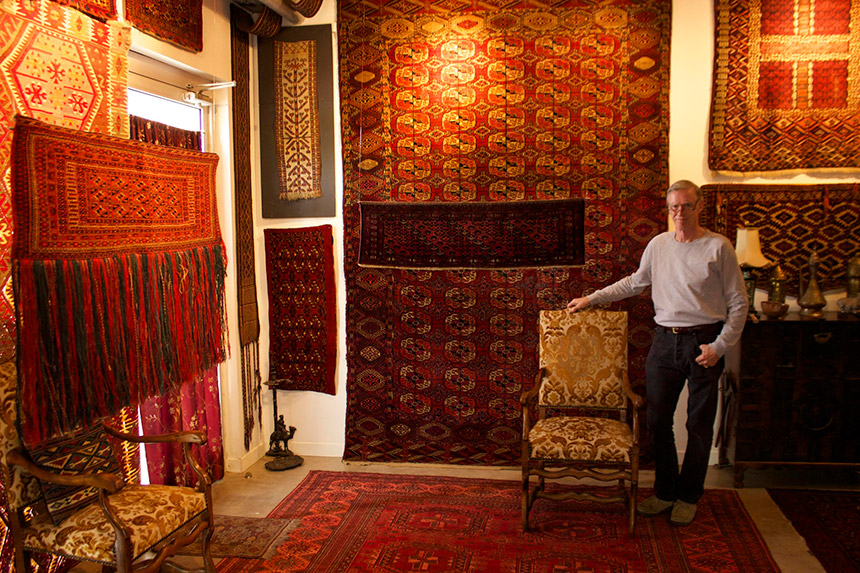 Clay Stewart
"O Allah, seeing Thou hast created Beluchistan, What need was there of conceiving Hell?" - Arab Poet
In 1969, Clay Stewart was a 19 year old freshman at San Antonio College when he bought his first antique Oriental rug. It happens that it was from one of the country's preeminent Armenian rug dealers and master weavers, N. A. Sahakian. "I lived in a rented, empty house in San Antonio's Alamo Heights' neighborhood. I had just bought a couch and I needed a hearth rug to go in front of it. I bought the rug from Mr. Sahakian for fifteen dollars and traded some labor in the bargain. He had me move rugs around his old landmark 'Oriental Rug Works' shop. You know, fold and carry, that sort of thing." That one meeting turned into an incredible working relationship between Stewart and Mr. Sahakian and, on Stewart's behalf, an appreciation for rugs that has lasted a lifetime.
Later, while studying quality control mathematics at the University of Texas, School of Business and Economics, Stewart had the opportunity to compare the production of American machine-made rugs with the rug weavings of the Oriental rug world. "Simply put, I realized that new factory rugs do not compare in craftsmanship, or color, or design. Even then," Stewart says: "I knew that modern economics would not allow this art form to continue and that it was essential that we collect and conserve the world's finite number of rare, antique, Oriental rugs." When other students were looking for ways to rebel against the establishment, Stewart found that studying these hand-woven textiles was an effective antidote for what he described as 'the sterility of American factory-made textiles.'
Again and again he was drawn back to Sahakian's landmark shop. Finally, immersing himself in the world of rugs, Stewart found his calling. Thus, he began what would become a full time, eight-year apprenticeship. He eventually became classically trained in all Oriental rugs, a restoration-weaver and washer and cataloguer for all antique Oriental rugs, from the European side of Istanbul to the east coast of China.
After he completed his apprenticeship, he went off to work on his own, eventually owning shops in both Texas and Honolulu. He has also worked in the New York market and has consulted for Sotheby's in London and with the original Getty Museum in Malibu, California, under the auspices of Mr. Sarkis Derelion of Santa Cruz.
Mr. Stewart continues to engage in research in connection with identifying the provenance of the various rugs he acquires for his own collections and in guiding other serious collectors in accomplishing their textile goals. He believes that collecting is an evolving sequence of continuously educated steps; that collectors invariably grow with their collections. His philosophy of collecting is to preserve not just art, but the power in that art; not the number of knots per square inch or how small the knots are (although that is fascinating). To quote one of the great art connoisseurs of all time, Bernard Berenson, who stated that, "objects made by the hand of man are of two classes. Those that are without life...we call artifacts. On the other hand, visual objects that are alive are works of art." "The material of each art is not its medium, but the life-enhancing ideated sensations of which it is compounded." These life enhancing properties include, "Tactile values (which) occur in representations...in a way that stirs the imagination...to come into close touch...with them." This ability of hand crafted art to pass into our psyches without conscious interference the same intangible spirit they imparted into their art; the potency of that art to communicate its being in a powerful non verbal emotional union of two mind sets or spirits separated by time yet communicating as if that time did not exist. The honesty of feeling in that potency is the bridge of the exchange. Most especially, the unknown, unschooled tribal artist and the unadulterated vision passing through his art.
~Berenson quotes thanks to E. B. Long, Oriental Rug Review, Vol. IV, No. 11, Feb 1985, p 2.