Collections Loaned and Exhibitions Curated by Clay Stewart

The Halsey Gallery at the College of Charleston Presents "Palimpsest Afghanistan"
Baluchi Tribal Textiles from the Clay Stewart Collection.
August 30 - October 5, 2002. (archive link ) (archive link )
Gallery Talk opening by Clay Stewart, curator and collector.
Interviewed for NPR on "Walk About" in September of 2002.
"Of all the rugs I've seen in thirty years in the international oriental rug business, a fine Baluchi weaving achieves a level of mastery in the knowledge of wool, second only to the Kurds and the Mongolians. It is especially impressive when you take into account their culture and their geographic isolation. My decision to study the textiles, the history and the culture of the Baluchis is my way of paying homage to an impressive artistic ability and to a culture that is no longer."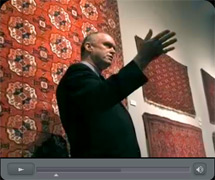 "Resplendent Reds: 19th Century Turkmen Textiles".
October 26 - December 21, 2006
North Carolina State University Gallery of Art & Design, Raleigh, NC.
Opening reception with a gallery talk with Clay Stewart, collector and curator of the exhibition.
(Archive link)

Artist and Objects video ga llery talk by Clay Stewart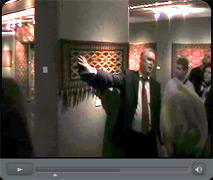 "Resplendent Reds: 19th Century Turkmen Textiles".
Lander University Monsanto Gallery Greenwood, SC
November 9 - December 5, 2007
"So, it's just an accident in time that we live close enough to the end of these tribal weaving societies to still see some examples of their work. To me, the magic of this weaving is gone forever, but we still have a chance, by seeing these weavings, to understand the culture of these people. And by doing that, establish this appreciation and respect that I believe is essential for international understanding and global awareness."

Lander lecture video by Clay Stewart